TRACKING THE BLACK RHINO IN DEEPEST AFRICA WITH THE SAMBURU
Saruni is delighted to be able to offer our guests a scintillating, 'thrill-of-a-lifetime' experience: a walking safari tracking black rhino on foot, accompanied by an expert Saruni guide and a highly-trained Sera Community Conservancy ranger, equipped with a transmitter correlating to the GPS whereabouts of the 11 rhinos throughout the 54,000 hectares-large sanctuary.

The vast rhino sanctuary has been fenced in what is one of the most advanced conservation projects in Kenya. Operational only throughout certain hours of the day for maximum protection, the use of the transmitter allows us to game drive our guests a tracking distance away from the nearest rhino, leaving the vehicle and continuing on foot (very lightly to not give away our presence) to metres from the grazing rhino. The tension is palpable as you come across the rhino in such close proximity for the first time; heart beating, pulse racing, curiosity and excitement mounting – it doesn't get more thrilling than this!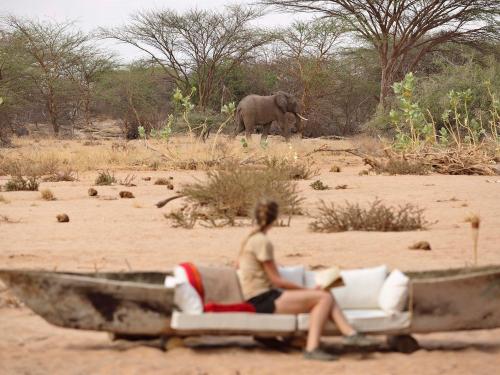 The adventure doesn't stop there. Following your 'up close and personal' encounters with 'the supreme rhino of Sera', the conservancy provides further plentiful wildlife opportunities and experiences; game drives to spot the Samburu specials (oryx, gerenuk, ostrich, Grevy's Zebra, reticulated giraffe), buffalo, elephants, antelope and a plethora of birdlife.


Sera is also home to The Fifty Wells, 'Kisima Hamsini', a series of (50!) springs where local pastoralists take their livestock to water, digging up water from the wells to fill up holders and troughs. The Singing Wells are also a driving distance away and can be visited with some notice – a rare treat to see the local community singing proprietary songs recognisable only by their own cattle, to encourage them to come to the wells to drink.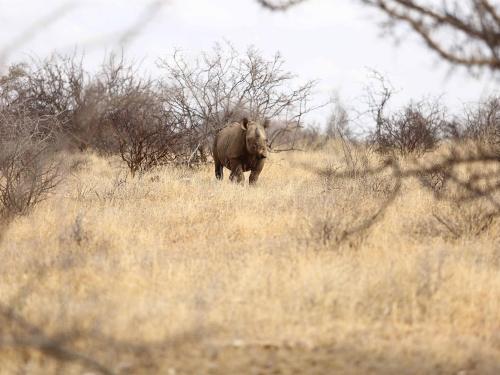 In addition, guests can pay a visit to the recently opened The Reteti Elephant Sanctuary in Namunyak Wildlife Conservancy located in the remote Mathews Range nearby, providing protection for orphaned and abandoned elephant calves with an aim to release them back into the wild herds adjoining the Sanctuary.
At nearby waterholes, early morning and late afternoon, an amazing natural spectacle can be witnessed. Thousands of sand grouse swoop to take the water, the flapping of their wings en masse creating one of the most sensory delights possible. Sera is the ultimate birding enthusiast and photographer's playground.
Download a Saruni Rhino introductory 1-pager below;
DOWNLOAD PDF